This is Part II of a four-part series that focuses on the written policies and procedures that your organization--whether large or small--needs to have in place in order to be grant ready. This blog is still in the Plan stage of the Plan – Do – Check – Act cycle described in Part I. Good planning can make your organization more agile and better equipped to respond in a timely manner to requests for funding proposals.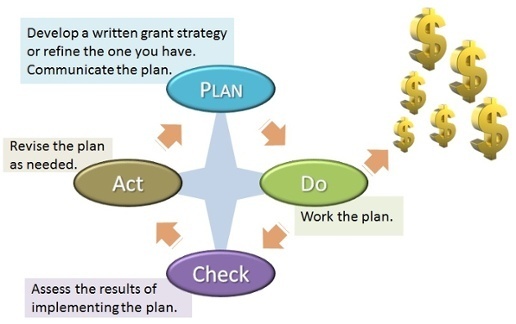 PART II: Grant Strategy and Organizational Mission
Review of Part I: The What and Why of Grant Readiness
In Part I of this series, we focused on these three areas:
What it means to be grant ready: Able to identify and respond to funding opportunities them efficiently with competitive proposals.
Strategic and operational elements of a plan: Priorities for funding, types of grants to go for, partnerships to cultivate, resources to allocate, tools to use.
The potential benefits and ROI: A systematic effort can pay for itself many times over.
The importance of a written grant strategy: Know why you're doing what you're doing
It's essential to assure that your organization's answer to the question of why you're doing what you're doing with regard to grant activity is aligned with your organizational mission. That's the focus of Part II of this series.
What's So Important About Alignment Between Your Grant Strategy and Organizational Mission?
If your back is out of alignment with your hips, the result of that misalignment is pain.
If your vehicle's tires are out of alignment with each other, the result is a bumpy ride and uneven wear on your tires.
If your organization's grant activity is out of alignment with your organization's mission (the statement of purpose prominently featured on your organization's website and on the mugs left over from the last capital campaign), the result of that misalignment is pain, a bumpy ride, and uneven wear on the organization's priorities—not to mention its members.
While I acknowledge that the above examples feature two different kinds of misalignment, the results of these different types of misalignment are remarkably similar. Whether the misalignment is attributable to parts or objects not being arranged in a straight line or to a disconnect between an organization's stated purposes and the initiatives and projects it pursues, sooner or later the result is dysfunction.
A common temptation is to pursue grant funding just because there are dollars available. A for-profit company we have worked with applied for and received a million dollars from the federal government to develop a technology to improve particle detection in accelerators. However, there aren't very many particle accelerators in existence. Even though the company was funded for the effort, they could have spent time in areas that positioned them better in more plentiful markets.
How Can You Ensure Alignment Between Your Grant Strategy and Organizational Mission?
Before you can check for alignment between your grant strategy and organizational mission, you need to know what the mission is. So—if you don't know your organization's mission statement or you aren't even sure there is one, then that item becomes number one on your list of things to do. Obviously, an organizational mission statement isn't important just to your grant strategy, but that's our focus here.
As Michelle Hansen emphasized in a previous Grant Helpers post:
Many grant-making organizations want to know about your overall organization and goals, not just about the project you are hoping to have funded. Often an application will ask for a mission statement explicitly. A mission statement is a clear, concise statement that summarizes your organization's goals and the philosophies underlying them...Having a strong mission will help with your funding request and assist you in meeting your overall goals.
A clear mission statement should be included in the boilerplate information your organization has at the ready when responding to requests for funding proposals. Other important information pieces you should have at the ready include your organization's:
vision statement
history
goals
strategic plan
lists of leaders

board members
tax exempt documentation
website URL
contact information
The Role of the Organizational Case Statement
An organizational case statement is another important piece of boilerplate information. Its purpose is to clearly present your organization's funding priorities and to demonstrate how those priorities closely align with your organization's mission and address your strategic initiatives.
An "all-purpose" organizational case statement is the "generic" or go-to document you can provide in initial discussions and incorporate into many of your funding proposals. In addition to presenting the information identified above, the case statement describes needs, scope and reach of the organization, and impacts—best with hard data to support the claims.
Sometimes it can be helpful to design specific case statements for targeted audiences, activities, and programs. For example, each college or school within a university may have its own case statement, which is targeted to its alumni and the professional associations related to its programs of study. Or if your organization is launching a new program or service, you may want to design a special case statement that profiles that unique project. And if you're launching a special campaign of some sort (e.g., capital campaign, endowment campaign), then you might find it helpful to modify the case statement package to emphasize that initiative.
What's Next? In Part I of this series, we offered the friendly reminder that it's good to have a plan when it comes to grant seeking.
In Part II, we emphasized that it's essential that your plan or grant strategy is aligned with your organizational mission.
In Part III, we move on to the organizational aspects of grant readiness that can help you be better prepared to anticipate, adapt, and act when funding opportunities present themselves.
Action Item The Grant Helpers resource entitled Making the Case can help you in your efforts to write compelling case statements to support your grant readiness efforts. Just click on the link to request a copy.